Storage elements remain important pieces of functional equipment in the office. Yet they are being rediscovered as furniture, giving space character and form – by zoning and organizing office floors, compact offices, group and team offices or as solitary pieces of furniture near the workstations, and even as spacious archiving furniture placed against the wall. What is required is not one solution for everything, but a modular system for all individual needs. Furthermore as representative furniture for management areas. A new OH type storage furniture offer a variety of new functions and design options.

SQart

Back

SQart Cabinets System PRO
Apart from functional desks, the SQart system also offers a wide range of cabinets and upper units. The offer includes cabinets with sliding doors, tambour doors, hinged doors and glass hinged doors, as well as open-shelf cabinets, wardrobes and cabinets with drawers. They can be used to create a varied but still very coherent and consistent whole.
Designer Andreas Krob.

Starting from 170 EUR. Prices without VAT, before discounts.
About furniture elements prices and fitting of office furniture please contact with office.

Individual approach to each order.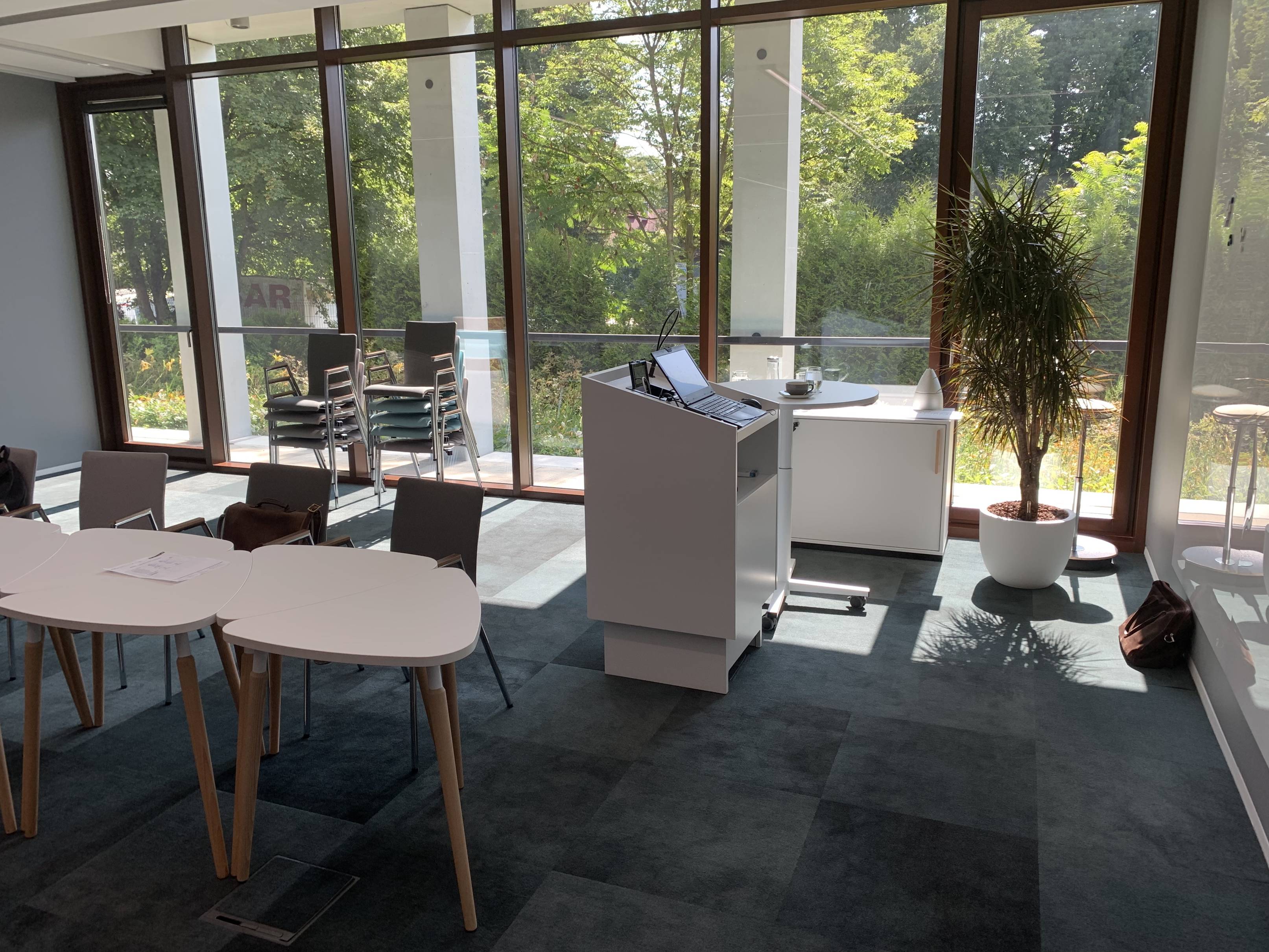 Krakow Office Inspiration Centre
There are 2 basic pedestal models: mobile pedestals (57.5 cm high) and desk high pedestals (72 cm high). The mobile pedestals are available in 4 or 5 castor models. The free standing items have 3 independent base models: metal plinth, 4 feet and 4 feet with additional 5th castor. The additional castor is for the models (both, mobile and fixed) with a bottom drawer for files. All pedestals are made of 18 mm thick veneered or double side laminated chipboard (except from the top of the free standing one – 25 mm thick).
All pedestals have metal drawers with a central lock, soft closing system and anti tilt. The filing drawers are fully extendable and can be opened by the use of the side opening.
SQart includes a wide range of various types of cabinets and upper-cabinets. In the portfolio you will find sliding door, tambours, hinged double door, hinged glass double door, open-shelving, wardrobe and lateral drawer cabinets. The cabinets are made of 18 mm veneered or double side laminated (class E1) chipboard. The back panel is made of 12 mm chipboard class E1. The glass door is made of satin glass and the tambour fronts of plastic. The hinged door cabinets are equipped with fast-assembly hinges with an easy adjustability function and soft closing system. The metal drawers and the frames for files are fully extendable. All cabinets have two types of base: either a metal plinth or feet.
Caddy
– multifunctional mobile units. The tops and shelves are made of 25 mm chipboard veneered or laminated on both sides. The carcase is 18 mm thick. Their door opening system is based on a push-to-open mechanism and they are fitted with independent one-point locks.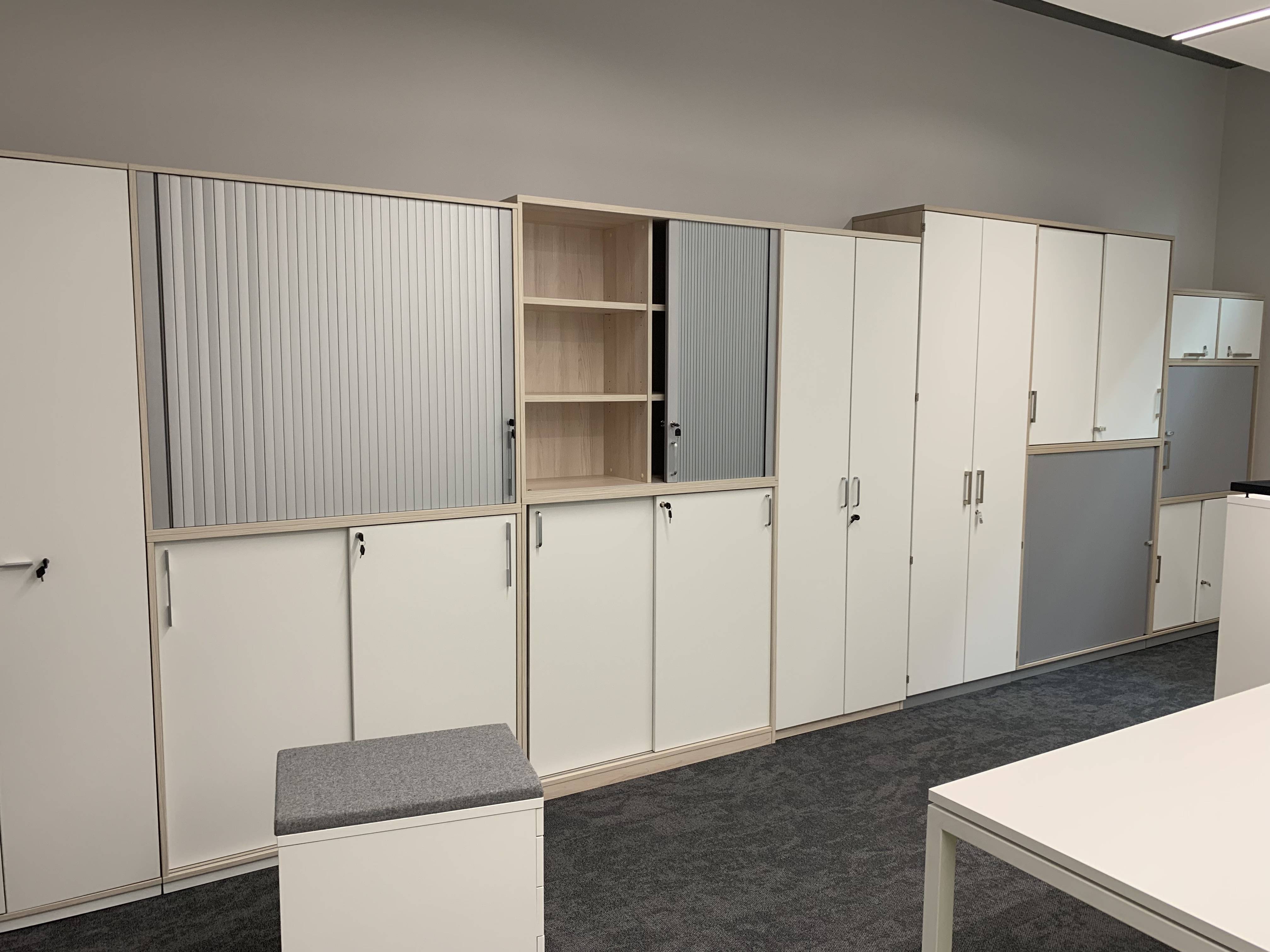 More Information in the Catalog
We develop 2D and 3D visualization of functional plans of premises according to the size of the room and according to your needs and desires.

For furniture configurations, please write to info@city-office.lv
We are Members of the Electronic Procurement System EIS
Laminate, melamine, veneer, metal, glass, plastic